All new version of The Retropolis Transit Authority features a custom storefront & lower prices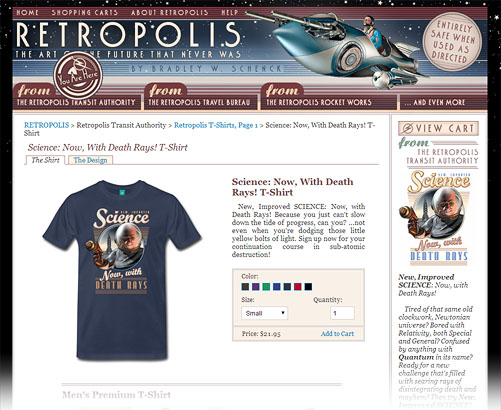 We're all about experimentation, here in the Secret Laboratory, and as always you're invited into the Vivisectorium for a personal tour.
This week's experiment is an all new incarnation of The Retropolis Transit Authority with T-Shirts now printed by Spreadshirt. I gave this a go once I'd rebuilt the Pulp-O-Mizer's T-Shirt system; building a new storefront was actually less work even though (for the first time) I wrote the complete store management system myself. Don't get me started on pagination!
We should consider this a shakedown cruise. But, happily, the shirts are now less expensive. And that's always nice, even during a shakedown.