Pulp-O-Mizer Feedback & Trouble Shooting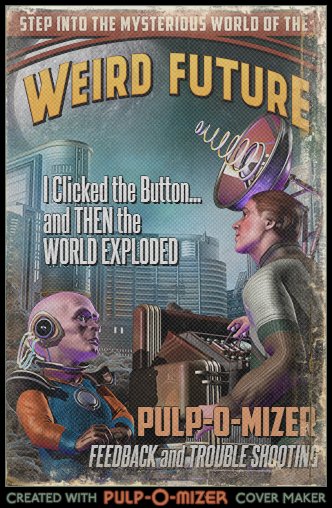 If you have feedback or problems with the Pulp-O-Mizer you can add them to the comments on this post. Note that off-topic comments are likely to be deleted, even if they're brilliant.
A few notes to get you started:
When you just want to combine images to get something that you like it's a good idea to turn all the Text Areas off. That's why I put the On/Off buttons right in the title bar for each Text Area: you can turn them off even when the menu's been minimized.

Look at the Presets! They're there to give you illustrated examples of things you can do.

If you run into trouble (especially when you try to make a Pulp-O-Mized product) your first step should be to look at the manual at the bottom of the Pulp-O-Mizer page. The "Browser Compatibility" and "Trouble Shooting" chapters are especially useful.

Although it's explained in the Users' Guide I will mention here again that Pulp-O-Mizer images are not available for use in commercial products (like books, eBooks, or tea cozies). In any case the images you render from the Pulp-O-Mizer page are too low in resolution to be suitable for that kind of thing.