The fantastic ray guns and ray gun kits of Resinator Lab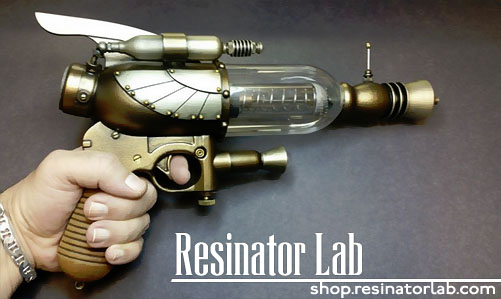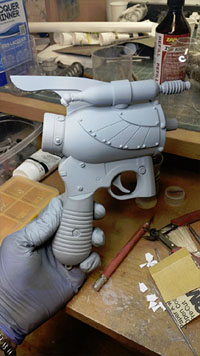 This beautiful ray gun – a contest entry – turned up in my Facebook feed a few days ago, and that led me to the Facebook page and the web site for Resinator Lab.
Resinator Lab, with its battered worktables and laser-scarred parts bins, is lit by vacuum tubes that flicker in a very nearly non-threatening way; it's the workplace of Rolando Gutierrez, and it's also the place where you'll find these fantastic ray guns from the future we never got. If we ever do get that future, of course, you'll want to have something like these in your holster. Because of those things with an unlikely number of arms, out there in the alley.
At the Resinator Lab web site you'll find fine examples of retro futuristic weaponry. Some are available fully assembled and painted, while others can be had as kits. You can see the Atomizer Laser kit below.
The site's gallery page shows some beauty shots of guns built by Gutierrez himself, and some by others.
But it's hard to beat that contest gun up at the top. What a beauty!