Back to the illustrations for Slaves of the Switchboard of Doom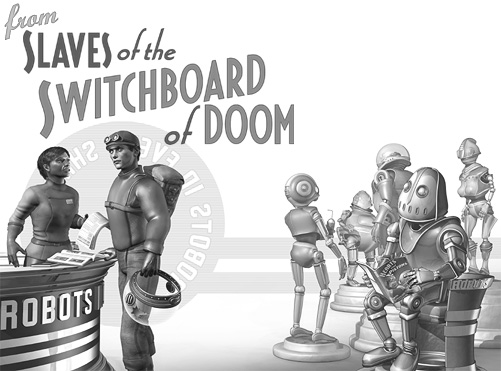 My brain's polygon-melting beam of inspiration has turned back to the illustrations for Slaves of the Switchboard of Doom. Which is to say, I've had my coffee.
The whole polygon-melting thing, which admittedly is a little much, really happened a few days ago. But it's only now – now that I have new stuff to show for it – that I feel like it's official.
This illustration for Chapter 11 gives us a view of a robot showroom, where the indentures for new robots are sold to the public. Indentures? Robots are persons, and we don't approve of owning persons. Unless we're a villain, I mean. So an indenture is like a loan that finances the robot's manufacture: when the robot works off the loan, he or she becomes a free agent. And, usually, a member of the Fraternal League of Robotic Persons.
This is one of three illustrations that needed a whole bunch of robots; I'm working now on the third of those. Looking back, it seems that I modeled about a dozen new robots for the story. That's a little hard to measure because I built one of them far in advance, so he's shown up in a few places already; and then there's another who turned out to be a specific character I want to use later, so he's gone back on the shelf. But technically? About a dozen.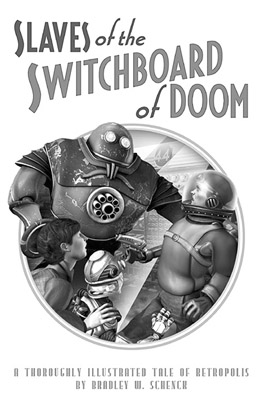 I have just four more chapter illustrations to do. I also have six that will be taking a trip back to the shop for a little more work. After that, a pair of two-page spreads of character portraits; and then the illustrations will be done.
When? Probably some time in September. I think.
So it's some time in September (I think) when I'll try to figure out how Phase Two of the project is going. Early indications are good, but not conclusive.
The book has two chapters that still worry me a little. Chapter Two probably wants my attention in an editorial, voicey, copy editing kind of way. But the eleventh chapter….
There are times when you want it to be possible for a reader to understand something in advance. To make that happen, it can't be impossible to get it; but it should also be possible to miss it. I've handled one or two of those elsewhere in the book, but Chapter Eleven still worries me a bit. I reworked that chapter quite a bit in my latest (fifth) draft. I'm a lousy tester for the problem because I already know what the reader might start to suspect . That's an area where I hope for some new feedback during Phase Two.
I just can't pretend that I'm a new reader any more. The fix for that? New readers.
But in the meantime: more art!