Swedish movie posters at io9, brain resets, and injustice on the Satellite of Love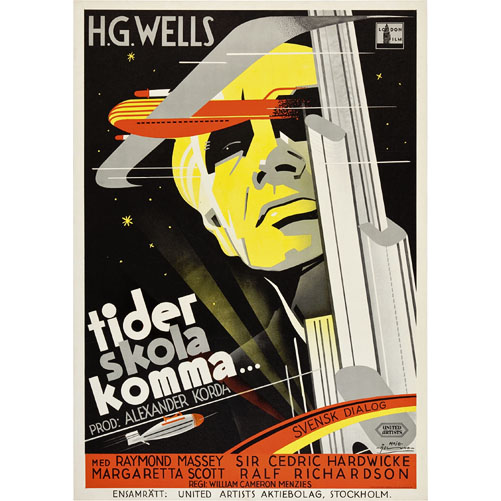 Here's a Swedish movie poster for Alexander Korda's Things to Come, just one of a series posted over at io9. Lovely design.
The last time I watched the film I saw Raymond Massey's character as a sinister figure, certain that he knew what was best, dammit, and you'd take it – and like it! – which wasn't really what the film was trying to show me. It's always interesting how our perceptions change over time, especially when we're watching or reading things from decades past. I noticed this again last night: I had to reset my brain during the first few pages of Barnes' Interplanetary Huntress, mentioned earlier (and still a free download!
)
Eventually my brain stopped commenting "Well, this wouldn't play too well today" and I was able to enjoy the peculiar Venusian wildlife in the story. There were these armored beetles that liked pipe smoke, for example.
But this morning, and these posters, reminded me of what has aways seemed like an injustice in Mystery Science Theater 3000. Joel and/or Mike and the bots skewered several Swedish fantasy films that had been dubbed (badly) for an American audience. One was even turned into a "Sinbad" story. It was that bad. But it always seemed to me that in their original versions these may have been pretty cool movies. I guess we'll never know.