Vika's Avenger at Kickstarter: one more stretch goal to go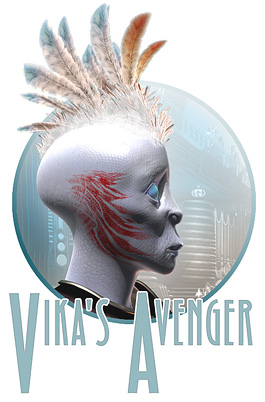 Lawrence Watt-Evans' Vika's Avenger is now less than 60 hours from its Kickstarter deadline, and it's less than $1000 away from its next stretch goal: an appendix called A Traveler's Guide to Ragbaan that will give readers a broader, different sort of look at the ancient offworld city where most of the story's events take place.
Now, it could be said that I don't have a horse in the race any more; with the last stretch goal the budget for interior illustrations brought their total up to six, and they're going to stay there: the author and I have worked out a plan for which scenes to illustrate, and it ought to make a nice spread throughout the book.
But I have the advantage of having read the unedited manuscript and I know that you and I would both like a chance to see a little deeper into the layers of history – most of it misunderstood, or forgotten – that lie beneath the airship docks, the ruins, and the palaces and taverns of Ragbaan.
And who knows? It's not impossible that we might learn a little more about this creature, who is not Vika and is not her avenger, which is about all I can say on the matter.
The cover should be finished this week; after that I'll be diving into those six black and white illustrations. So I know what I'll be doing: I just don't know if you'll be in there with me.