At Kickstarter: more pledges for Vika's Avenger mean more illustrations by me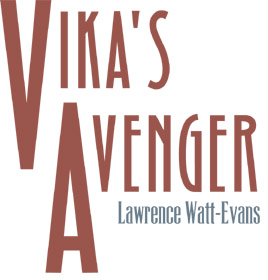 With eight days left to go, Lawrence Watt-Evans' Vika's Avenger is just $100 away from its next stretch goal at Kickstarter: that means that we're nearly certain to see several more of my interior illustrations in the book.
I'm really liking the concepts and cover roughs I'm working on, but I can't show them to you; in fact, even the author hasn't seen the latest yet. So sharing them with you would be rude, at the least. But there are some neat things happening for the far-future adventure story. It's set in a world with such a long history that civilization has come and gone several times, and the inhabitants of the ruined city of Ragbaan are surrounded by artifacts from that long history; the artifacts are so mysterious and ancient that they seem like magic.
Once Watt-Evans has cajoled you into that next $100 in pledges I'll have more work to do on the illustrations – I'm not quite sure what the new total number will be – and then beyond that, if the project hits $12,000 he'll add something new to the book. That'll be A Traveler's Guide to Ragbaan, which would be a very handy tourist guide for the city's perplexed – and endangered – visitors. Stay tuned!