Return of the Son of the Bride of the CreateSpace Shop Manager Plugin for WordPress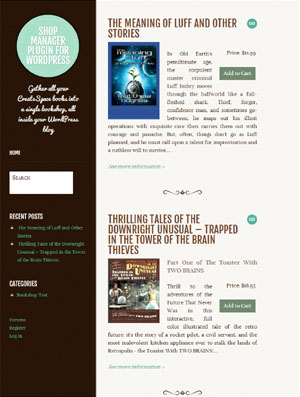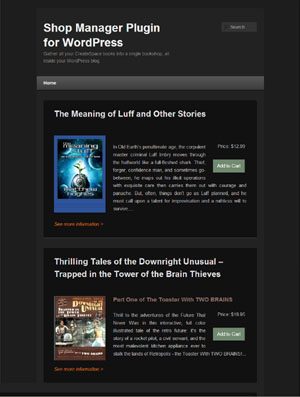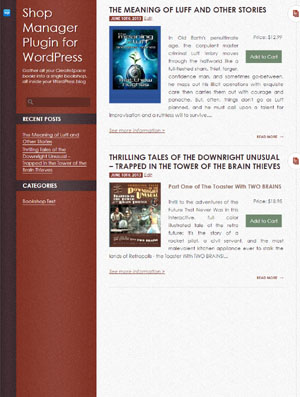 Although I did set aside my CreateSpace Shop Manager plugin for WordPress for a week or so, I'm back at it now and I just can't describe the savagery and carnage that are taking place in my editor.
It's incredible.
I finished laying out the admin page for the plugin, and I patched a few leaky bits, and I stopped a few small explosions from happening; then I went back to the core task of reading the data from a CreateSpace eStore page, throwing away a lot of HTML that no (nominally) sane person would want, and flowing it into a WordPress page.
But after I'd gotten pretty deep into my new method for that I really had to go back to the beginning and think it through. I'd started out trying to build the category hierarchy from scratch as though it were all a separate program; and that, you see, was foolish of me.
Because the average WordPress user just wants to plug something in and have it behave like all the other content in the blog. Which is not unreasonable.
The upshot is that I threw out a whole lot of my earlier work and started over, using the same methods but in a new, WordPressy way that I think will be simpler and better. (It's easy to design something complicated, after all: it's quite difficult to design something simple.)
A lot of that work is done, but heads will continue to roll while I strip out a lot of admin settings that make no sense any more.
The whole thing has transformed from a system of custom pages into a normal set of WordPress posts, contained in normal WordPress categories, and it all makes a lot more sense now, I think.
But the cool and nifty thing is that I've also resolved a lot of issues with theme compatibility. At the left you can see the same bookshop page displayed in three different WordPress themes. Each page shows the same category listing with a short version of the books' descriptions: the whole post, when you click through to it, is a complete listing for the book.
That's the result of a bunch of stuff I did today, before and during and after the carnage I mentioned earlier. I'm pretty excited now about how it's shaping up.
One thing I'd like to include in the demo site is a way for users to switch from one theme to another, like I've been doing, but the plugins that claim to do that for users are all twitchy, cranky, or downright broken in recent versions of WordPress. So it may not be possible to show off the plugin's flexibility except in screenshots like these.
And the demo site will be a project in itself, of course. But sometime in the next few days I hope to have a testable version of the plugin and I'll try to recruit some testers for it. With forums! And handwaving! And stuff!