Retropolis Rocket Ship Kickstarter Update – it's all about the ladies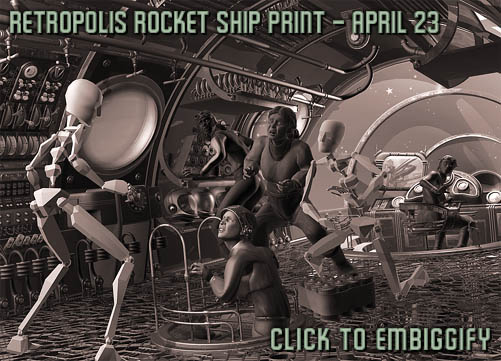 Today's Kickstarter Retropolis Rocket Ship preview is rendered in glorious sepiatone because until I've sorted out the final lighting it would otherwise be pretty hard for you to make sense of the latest additions: real characters!
I'm still not completely done with the cockpit (that's a temporary image on the televideo screen) but it was time to start putting genuine people into the rocket. You can't make out the two down below the deck grating – that pesky lighting business is at work there again – but I figure that this is a big enough change, anyhow. The two remaining ladies should show up soon.
Oddly, what's probably a bigger change is a very simple rotation of the camera. I've been meaning to do that for ages. It just didn't seem as important as adding all the gizmos along the fuselage. The moment I finally got around to tilting the camera, though, I saw a big improvement in the whole scene. Still… I'm pretty sure you're more interested in the dames.
Since the Kickstarter project hasn't even come close to its halfway mark by now there's serious doubt about what will become of this picture. I never said outright that it would never be reproduced as a print in the event that the project failed, but that's been in the back of my mind all along. Fact is, I still haven't made up my mind.
But if you've put off backing the project, this isn't a bad time to pile on!