Thrilling Tales – even more books of the Clockwork Book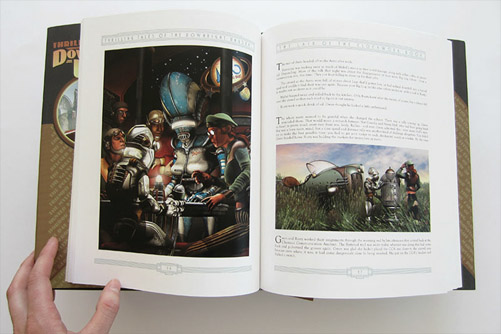 In a post at the Edtion One blog – that's where they're printing and binding the Kickstarter edition of The Lair of the Clockwork Book – the gifted elves at Edition One are showing off the books in what they call a "very meta post", since what they've got there is post about a book about a book.
But I can't let that stand, I tell you! I will now out-meta them by posting a post about a post about a book about a book! Muahahahahaha! Mua! and Ha! and Ha! I say! And Ha!
Of course my excuse for that outburst is that if they were taking photos and posting them last Friday, when the first 110 books were stacked up around my house, then the rest of the print run is likely to get here pretty soon. I've got to stamp thirty more books before I've got through that first batch. Still, I say, bring 'em on, and, also, Ha!
[tags]thrilling tales of the downright unusual, the lair of the clockwork book, hardcover, kickstarter, book, insane outburst with a cackle chaser[/tags]