Mike Rivamonte's assemblage sculpture: Robots! Rockets! Speaker Grilles!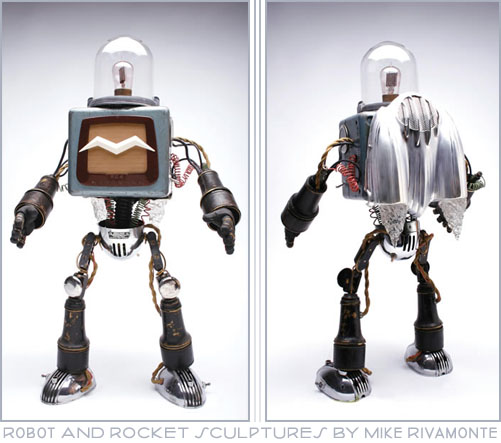 There's just something about assemblage sculpture of robots, in which the artist picks from the cast-off streamlined spare parts of yesterday and makes something entirely original – though not entirely new – out of those old gauges, speaker grilles, canisters and vacuum tubes. Like I say, there's just something about them and that something never fails to make me smile.
So thanks to Dark Roasted Blend I've been smiling this morning.
These are just a couple of pictures of Mike Rivamonte's assemblage sculptures. My favorite listed component (so far!) is "Australian drive-in speaker". Because the dedicated roboticist will go straight to the Antipodes for his diodes.
There are also rockets, including some resin-cast versions, listed on Rivamonte's home page, and for those of us with more appreciation than ready cash there are some awfully nice prints, too. Wonderful stuff!
[tags]robot, rocket, sculpture, assemblage, vintage, retro, mike rivamonte[/tags]