Matthew Hughes' Luff Imbry stories in ePub format, from Angry Robot Books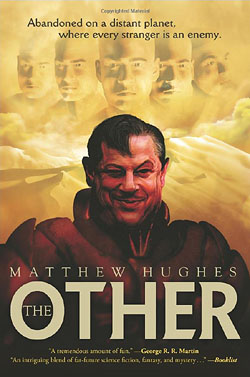 If you haven't read Matthew Hughes'
The Other
then, on the bright side, you have something to look forward to.
Of course if you have read The Other, there may still be a bright side: because although they haven't (yet?) been collected in print you can now download ePub formatted digital versions of seven short stories about the more or less hero of The Other, Luff Imbry from their publisher, Angry Robot Books.
They're each less than a dollar (if my inner currrency exchange is working) and they will fit just fine on your Nook, Sony Reader, iPad, or anything else that can read an ePub book, including your computer.
Luff Imbry is a bit of a rascal. He's an antiquities trader who specializes in recently redistributed wealth and, sometimes, in wealth that hasn't quite yet been redistributed, but could be. He's a gifted forger, too, and in that (at least) he reminds me of Jonathan Gash's Lovejoy mysteries… though since he's quite gifted in the girth department, Luff Imbry may be more of a heavyweight.
Angry Robot's FAQ also suggests the stories may be available in the Amazon Kindle Store
, but as you can probably see from that click I couldn't find them there. Maybe they'll show up in the near future.
Hughes' Archonate novels are often compared to the science fiction and fantasies of Jack Vance, and with good reason; in fact we discover along the way that the Archonate's Earth may even be the Old Earth of Vance's Dying Earth stories… just a little while before the balance of the Universe shifts back to magic (or "sympathetic association") from its more rational state of science.
They're fine stories, and wonderfully well told, and you just ought to go and read them if you haven't. A good place to start might be Majestrum.
[tags]matthew hughes, archonate, the other, luff imbry, science fiction, epub, digital book, ebook, sont reader, nook, ipad[/tags]