Damon Runyon vs. the Spacemen: A Clean Sweep With All the Trimmings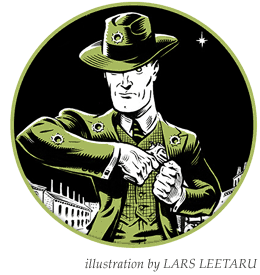 I kneel beside the guy and look at the wires. Each wire is as black and as thick as the one that goes from your radio set to the wall. Dozens of these wires snarl around each other, and they drip something green I do not touch. I think the green drips must be the dead guy's blood, and this raises serious questions about the guy's place of origin. I have seen several persons with holes of this nature, so I know what most citizens have in their stomachs. It is not black wires and green blood.
James Alan Gardner's A Clean Sweep With All the Trimmings is a science fiction story told in the manner of Damon Runyon, in a Prohibition era New York whose ever-lovin' guys and streetwise dolls find themselves inconvenienced by spacemen from Jupiter, maybe, or maybe from someplace that is farther away than Jupiter, and anyway is even stranger than the interest (or interests) of J. Edgar Hoover.
It's a wonderful romp and you can read the whole story on the web at Tor.com.
[tags]science fiction, damon runyon, prohibition, golden age, james alan gardner, lars leetaru, a clean sweep with all the trimmings, dieselpunk[/tags]