It's Time for the Clockwork Book! It's also Time for a New CD from Leslie Fish

Yep, I shifted the gears of my brain almost on time to return to the final illustrations for The Lair of the Clockwork Book.
I skinned my fourteen new semi-generic characters – very few of whom turned out to be generic – to their skeletons. I wish I had thirty or forty of them, but when all's said and done it's just me here in the Secret Laboratory and, well, I sleep sometimes. I'm not sure what's causing that.
To further complicate things I'm now working on a CD packaging project for Leslie Fish's upcoming Avalon is Risen, from Prometheus Music. I'm happy to be doing some Celtic knotwork on the side again but it's also a pleasure to do because it's been twenty-five years, somehow, since I did the cover and illustrated songbook for Leslie's Cold Iron. It's nice to see the old neighborhood again.
But as you might expect that makes my schedule for the next month or so even more exciting than it was before.
I'll be finishing the last couple of dozen Clockwork Book illustrations in this phase. Once those are done I really do have to do some re-evaluation of how Thrilling Tales of the Downright Unusual is running my life – I love working on the stories, and a serial is a necessary part of the site, but the serial's inflexible schedule has made it very hard for me to complete Part Two of The Toaster With TWO BRAINS which – for those of you who remember – was the main focus of Thrilling Tales in the beginnning.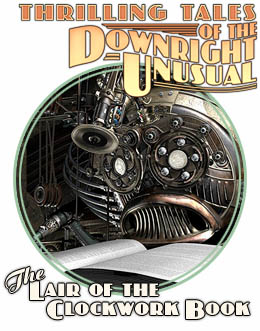 I wouldn't want to have a hiatus before the next serial starts; but that's one of several things that could happen once The Lair of the Clockwork Book concludes. And I have some format changes in mind for the next serial.
It may have longer updates that come just once a week, for example, and what I have planned for those updates won't fit so well into the existing layout of the site. So whatever happens I'll have a lot to do before you even see the final page of the Clockwork Book. One way or another I just have to be able to set aside the time to work on TWO BRAINS, not to mention any other freelance jobs that come in. And somewhere in there I'll be laying out the print version of The Clockwork Book, too.
So the short version (too late!) is that The Lair of the Clockwork Book is headed toward completion, although it's sharing my days with the CD project; that I'll have at least as much to do while those pages play out for you; and that my serial schedule has been playing hell with TWO BRAINS and everything else. Film at eleven.