Thrilling Tales: The Return of the Men of Retropolis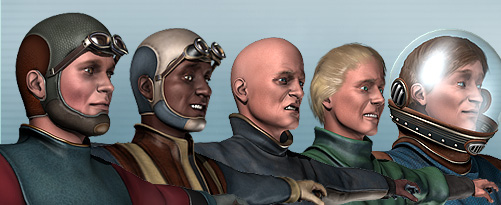 So here are the last of my new Retropolitan men, with their unique morphing faces and slightly less unique clothing that's made to be easily retextured and modified into a wide variety of parts.
My new system for characters is cranking along; even that minor problem I mentioned last time, with the modifiers I used to grow a character's cowl out of his head, is working fine. I still don't know why I had problems the first time.
The fact is I'd love to keep going with these if it weren't for the two ominous facts that 1.) I still need to skin all my new characters to their bones; and 2.) I need to get back soon to the illustrations for The Lair of the Clockwork Book. There are lots of pages queued up in the buffer but I know that this last set is likely to be pretty challenging. I'd like to make an early start.
In the meantime I've been thinking about the serial that will follow The Clockwork Book. There are some things I'd like to do differently; but those things may not work well with the existing layout of the Thrilling Tales web site. Some of my thoughts may be wrong headed, but if this works out it could mean good things for the print version of that story – which, I think, wants to be a longer form story than The Clockwork Book.
Still some things to figure out there; and as always, the frighteningly unfinished Part Two of The Toaster With TWO BRAINS is moaning at me from my hard drive. It's got a really scary moan.
Someday I really need to work on just one of these at a time. But I can't believe that's going to happen any time soon.