A 1970 Berni Wrightson Science Fiction Comic at Golden Age Comic Book Stories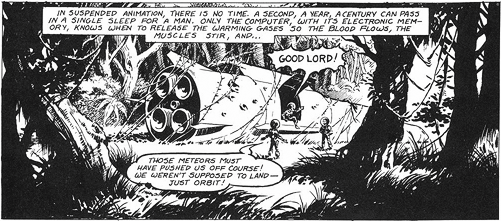 I can't say it's unique, because even if I ever knew that Berni Wrightson never did another science fiction story that would have been so many brain cells ago that there's no way I could remember (hey, it was the '70s). But at Golden Age Comic Book Stories you can see what has to be a very rare thing – Wrightson's best known for his horror comics, after all, so the space suits and interplanetary rocket in "Breathless" are a real rarity.
One thing I really love in this one is the way he's spotted his blacks and used rim lighting in a very Wally Woodish way, while the inking is still that nice juicy Wrightson brushwork.
This story first appeared in a magazine called Web of Horror in 1970. I don't remember ever seeing that one (or I'd have been reading it) in what I do remember as racks full of Warren's Creepy
and Eerie
.