Save $5 or $15 on T-Shirts, Posters, Blank Books & Other Swag

In all the excitement* I forgot to mention that I've got two different sales running on t-shirts, posters, blank books, and other merchandise.
T-Shirts (at The Retropolis Transit Authority, Saga Shirts, and Hot Wax Tees) are on sale with $5 off any order at all (nope, no minimum order) through August 21; you just need to enter the coupon code WHAT$5 during your checkout.
That's completely eclipsed by the other sale, through August 27, which offers you $15 off an order of $50 or more on posters, blank books, wall clocks, and other merchandise. You can find my Celtic art posters and so on at Celtic Art & Retro-Futuristic Design, while the Retropolis art, as always, makes its home at Retropolis. For those items, use the coupon code ANN0813.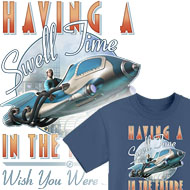 Just don't get 'em mixed up; WHAT$5 is $5 off any T-Shirt order, while ANN0813 is $15 off a $50 order for all that other good stuff.

*okay, I made that part up.
[tags]t-shirts,posters, celtic art, retropolis, retro future, coupon[/tags]