Thrilling Tales: an airship, a quandary, and a resolution to cheat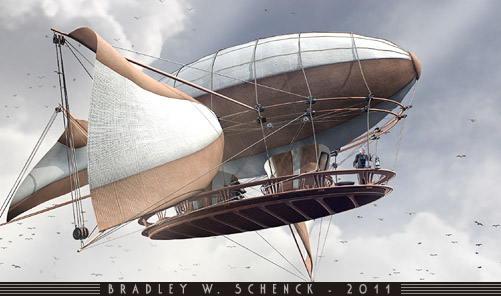 As you see, our friend Osgood Finnegan is sailing off in his airship and that, I have decided, is my cue to switch back to my work on The Toaster With TWO Brains.
I haven't completely filled the Clockwork Book buffer – I'm constantly banging my head against Zeno's paradox, here – but in order to do the next two illustrations (thereby to catch up) I'd have to create two new characters. Due to the length of time I'd spend on that, by the time I'd "caught up" I wouldn't, in fact, have caught up. I'd need to do several more illustrations to make up that time in filling my ever-dwindling buffer of complete illustrations.
It's just bad luck, really. It's got to do with what I'd need to build right now. Over time the hours would average out, I'd be happily caught up in all actuality… while the birds sang, and the bees buzzed, and Osgood's airship would sail on with its favorable wind.
But I'm tired of chasing the buffer. I'm going to swap over to my other story while I'm still two pictures short, and just take a week off The Toaster With TWO BRAINS at the end of its part of the schedule.
If I hadn't had to model the airship I'd have been back on track this past weekend: but after that, the two new characters are just too much to bear.
This is my decree.