Thrilling Tales: the return of Osgood Finnegan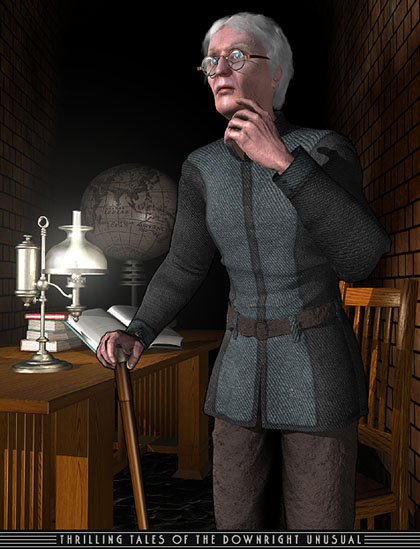 As you'll see in (um, lemme do the math there, well, okay, I dunno)… a while*, Osgood Finnegan will be making his return in The Lair of the Clockwork Book: older, perhaps not wiser, but certainly more knowledgeable than he was when we last saw him.
This is the first time I've created an aged version of an existing, younger character. It was pretty interesting: more so, I guess, since I didn't do what you might suggest by just retexturing his young head. I wanted to experiment with a new tool that has some nice features and in order to do that I had to start more or less from scratch. So far nothing's exploded and I'm happy with the results. Fingers crossed.
JhJHGJ Kg;g hgl;ghghfd ssf?
Okay, not a great idea to type with my fingers crossed. Life is so complicated.
My lateness in this part of the schedule means that in order to catch up I need to build a bunch of other new things; that will no doubt push me back even a bit later. Eventually, though, I'll catch up. The good thing is that I'm doing all of this so far in advance that it hasn't any effect at all on the publication schedule. The only thing that gets delayed is my temporary return to The Toaster With TWO BRAINS, which I really would like to be working on right about now. But that's the way it goes.
* You know, that's looking like about 13 weeks from now, or late September. But don't quote me.