Thrilling Tales: how milestones are like Zeno's paradox, with robots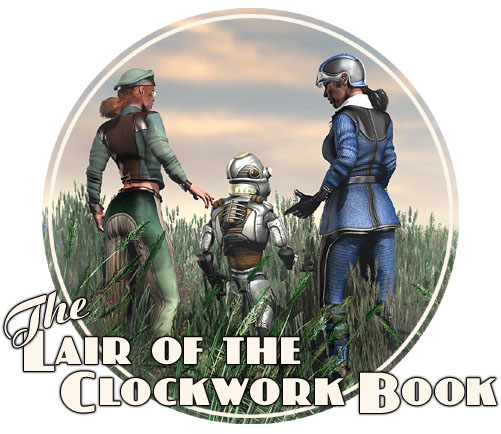 While The Lair of the Clockwork Book isn't exactly headed off into the sunset, I am just now finishing the last illustration for its upcoming story; you'll be seeing the new pages over a sixteen week period starting in early June. I'm really pleased with this new series of illustrations and, naturally enough, I hope that you will be, too.
Over the next week I'll be entering the story data for those weeks' worth of updates and I plan to revisit two of the pictures that I still think could be made a bit better.
This second series will begin to appear (on schedule!) on June 2. But I'm not quite done in there yet because before I can rewire my brain for Part Two of The Toaster With TWO BRAINS I need to make sure that the Clockwork Book buffer is around 32 updates ahead of what's appeared so far on the site. In a Zenolike bit of scheduling, that's a moving target: the longer it takes me to fill the buffer, the longer I have to keep at it because the pages are updating as I go. I do expect to catch up to the tortoise before the middle of June. But then I'm no Achilles, am I?