T-shirts on sale at Retropolis Transit, Saga Shirts, and Hot Wax Tees

From now till midnight (Mountain Time) on April 11, you can get a discount of up to 17% off any order at all (no minimums) on T-Shirts and aluminum water bottles from
The Retropolis Transit Authority
,
Saga Shirts
, and
Hot Wax Tees
.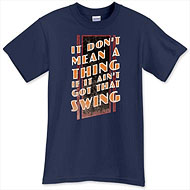 It's another one of those computationally intensive discounts that varies from item to item. On a dark colored shirt you'll get about 17% off; on a light colored shirt, about 14%. But the
best
part about this sale is that there is no minimum order – you can get the price break even on an order for a single shirt. Though from my point of view the savings on an order of, say, twenty or thirty shirts are so amazingly, um, amazing, that you should probably just mortgage the house and think big, here.
That's just me, of course.
[tags]t-shirts, tee shirts, saga shirts, retropolis transit authority, hot wax tees, retro future, sci fi, celtic art, celtic design, swing, swing dance, music, nerdy, geeky[/tags]