New Wally Wood comics collection coming from Vanguard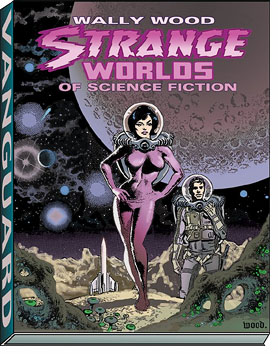 J. David Spurlock has shown a teaser from Vanguard's new Wally Wood book at Facebook. This cover is an image Spurlock cobbled together from vintage Wood drawings, with colors and title graphic by Jim Steranko.
The book's set for a November release – after, I think, a short delay from its original date.
The book's already listed at Amazon
, just so you can go there and keep refreshing the page for the next eight months.
And what's in it? Spurlock explains:
We are finalizing the contents now but it will likely include Wood's complete Avon sci-fi output including Strange Worlds, Space Detective, Capt. Science, etc. We are waiting to hear from EC about including some EC material.
Wood was an amazing penciler and inker; he's remembered today for a lot of that work, but it still seems to me that he remains undervalued. You just can't beat the science fiction stories he turned out, especially during the EC years.