Thrilling Tales: the Clockwork Book art's ready… now on to the site revisions!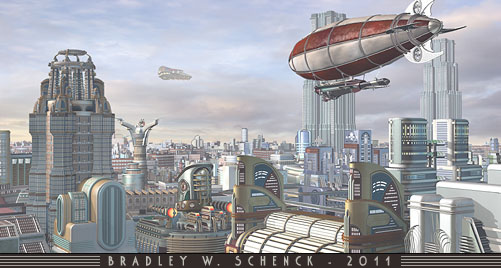 If that's me, with my faced scrunched up against the window of the airship's gondola, it only means that I've just finished the first illustration for The Lair of the Clockwork Book… which in a remarkable inversion is also the last one I needed to do before I had enough illustrations to start posting the pages at Thrilling Tales of the Downright Unusual. That's thirty-three, so far, for anyone who's counting. Well. I guess that's just me.
Click on it to see it bigger, unless you're reading through RSS or syndication: the popups, alas, work only at my blog.
So my next step is to work through my task list, making a bunch of changes to the Thrilling Tales site so that it can support this new non-branching story and while I'm at it I'll also make a number of other enhancements to the way the whole unlikely thing works.
Still on track for the launch of the Clockwork Book story in early February!