Scott Bieser's 'Quantum Vibe', a new Sci Fi Web Comic, at Big Head Press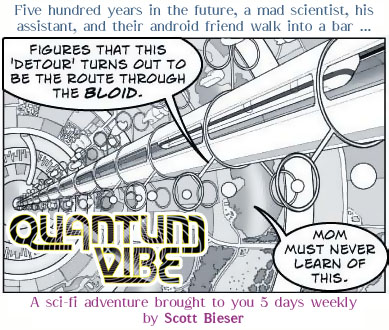 I worked with Scott Bieser during my very brief stay at Interplay, back when Interplay was still a place where people worked. Scott has since then been moving and shaking over at Big Head Press, a webcomic site, and he's just let me know that he's got a new comic going over there called Quantum Vibe. This is something new for Scott because it isn't a collaboration (there is a "me" in team!).
The comic is updating on five weekdays each week, which when you think about it is all the weekdays we've got. So, you know, frequently*.
What I want to know is this: when they get into the bar, who gets told "We don't serve your kind in here"? And what hijinx ensue?
*Unlike me. But that will change soon, I promise.
[tags]quantum vibe, big head press, webcomic, web comic, comic strip, science fiction, oh go on and click the link already you know you want to[/tags]