More Retro (ish) Sci Fi Interactive Adventure at Epicsplosion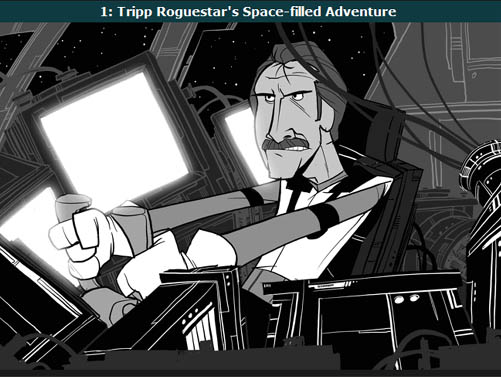 Tauhid Bondia, formerly of the webcomic Good Ship Chronicles, has now embarked on a graphical multiple-choice adventure series called Epicsplosion.
This is so much like my own Thrilling Tales of the Downright Unusual that it makes me feel all warm and fuzzy inside even though feeling warm and fuzzy inside is kind of a scary thought, when you think about it, which now that I've done it is something that I discourage.
Epicsplosion uses animated gifs for its illustrations and can be a little harder (as in 'more likely to be fatal') on the characters than what I do in my stories. What really interests me here is that Tauhid seems to be posting updates to the stories live. I ruled that out because it wasn't possible for me to keep up with all the possible threads in anything like a timely way. So I'm really interested to see how that works out over there.
Tauhid's also either bravely or foolishly using the trademarked phrase "Choose Your Own Adventure". We'll see how that works out, too. I'm in your corner, buddy.
So pop on over and sit in the driver's seat of Tripp Roguestar's Space-filled Adventure!
Note that there's some language there that may not be safe for work or for religious fundamentalists, each of which will have to take its chances.