Coming Soon: Custom Random Title Mugs from the Title-O-Tron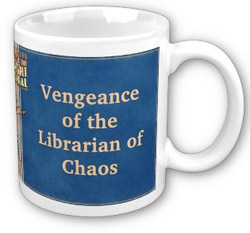 This isn't online yet, but I'm sort of jazzed about it anyway: I worked out a way to connect my Thrilling Tales Pulp Sci Fi Title-O-Tron to my online shop, so that by clicking on a title you can automagically generate a coffee mug with that title on it.
So soon you'll have a chance to create mugs with a Thrilling Tales logo and, say, "The Astronomer That Misplaced the Galaxy", or "The Airship of the Phantom Horde", or even "The Great Cephalopod of the Moon". Which (as I calculate it) will make your life complete. No thanks are necessary: I do this for the good of Humankind.
I've got practically no control over the typography, unfortunately, but when I've spiffied up the mug backdrop and made a pretty web interface for it this should be going into my Retropolis site in the coffee mugs section.
This picture's from a screen grab of the whole astonishing mechanism in action. It's aliiiiive!
UPDATE: The Mug-O-Matic is now live!