A couple of new characters for Thrilling Tales of the Downright Unusual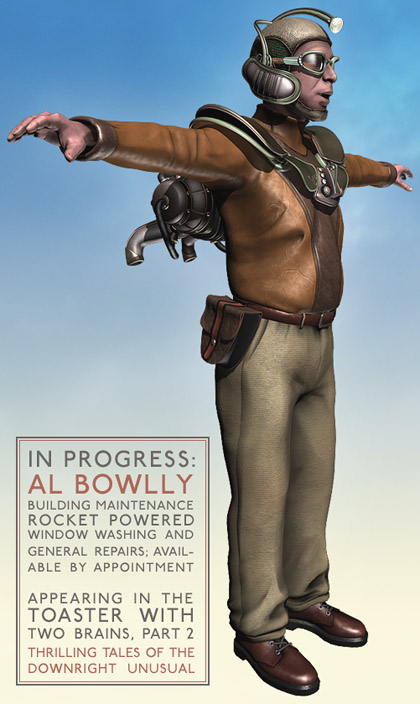 August is nearly half over and here's my first post of the month. I've been very busy with working on the assets for the next Thrilling Tales stories, in the mornings, and fleeing down the stairs of the Secret Laboratory to escape from the heat, in the afternoons. Or anyway that's how it often happens. By late evening it's sometimes safe to come back up here.
In other news, yesterday I mailed off the last of the rewards for the Thrilling Tales Kickstarter project. I should probably write up my Kickstarter experience sometime soon (before I forget). It was an interesting journey and I learned some things that I expected to learn, and a few that were a complete surprise.
By the way, if your name is Michael Church or Alain Cayrol, please get in touch with me through the Kickstarter messaging system. I still have no idea where to send your stuff.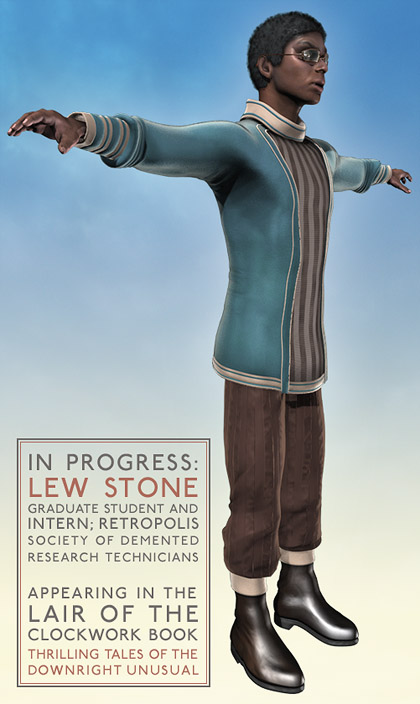 You can see from the illustrations here that I'm not doing the sensible thing. The sensible thing, you see, would be to concentrate on the Clockwork Book stories first because I need to start posting them while I work on the Toaster With TWO BRAINS. It probably wouldn't surprise anyone who knows me to see that I've failed the sensibility test.
My brain likes to bounce back and forth between the two, anyway, and since that seems to be working for me I'm not going to impose any more order on it. I won't need to exercise that kind of discipline until I'm done with one or both of the scripts. I'm thinking about writing the scripts for both Part Two and Part Three of The Toaster With TWO BRAINS, so that I can start on Part Three as soon as Part Two's done. We'll see if I'm sensible enough to follow through on that idea. Hmmm.