Tallie's Adventures in Pre-Productionland, Continued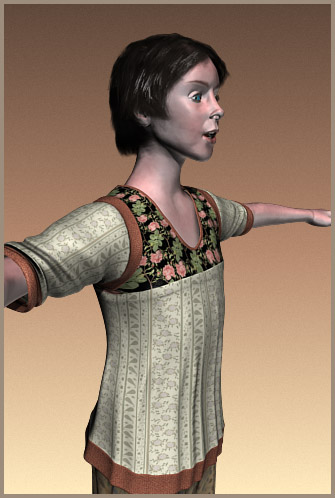 Okay, I got that out of my system. I finished up Tallie's brown hair, which will end up on somebody's head someday, but then I wheeled her back into the shop.
As I textured her I started with the fabrics, which led to the complexion, which led to the hair; and when I'd reached the end of that road she wasn't quite who I thought she'd be when I started. Sometimes that's good – characters often know themselves better than we know them – but this time, I think, I'd just put the cart before the horse.
So here's much more the Tallie I thought I was making when I started her. I had an interesting time with her skin tones – it's so easy for pale skin materials to end up looking dead – but eventually I came up with something that I like (again!) using very much the same techniques as the earlier version. The paler areas have a surprising amount of blue in them, to suggest that translucency you need in skin that's not undead. So today… this is what I like :).
One other thing I know about Tallie is that she's quite fond of hats. Happily this hair will adapt to headgear a lot better than the other.