Character Update on Tallie – Hair, Freckles, Vertex Colors and Me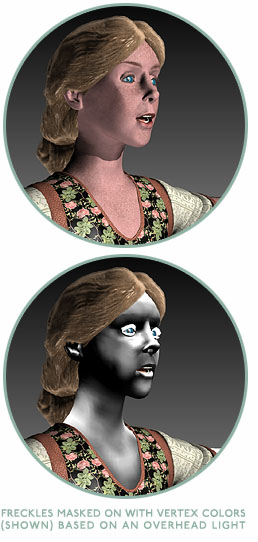 Here's an update on Tallie, that new character I'll be using in the Clockwork Book stories. I had some adventures with her hair, which I now sort of like – it's sculpted with Mudbox, which is something I haven't done with hair before. I just about always do some retouching on my characters' hair, so my goal was to come up with something that'd nearly work.
Which might be a larger lifetime goal than I realized when I started to type that sentence.
Anyway, one of the things I like best about Tallie is the way I constructed her skin material. It's based on two copies of a SymbiontMax material ("Human"). The first skin material's pale, while the second one's freckled.
I'm masking between those materials using vertex colors. You can see Tallie's vertex colors in the lower left image.
All the heavy lifting for the vertex colors was done by baking in the lighting from an overhead light source. (In Max, that's done with the Assign Vertex Colors Utility.) I positioned a directional light so that it cast light where sunlight would. That way Tallie's more tanned, freckled skin tones show up just where more tanned, freckled skin tones really happen. I touched up the vertex colors around her throat and on her hands, but other than that it's a pretty simple simulation of the way her skin would really be affected by the Sun. Neat!
Then a painted material gets masked on to affect her lips and eyebrows. But apart from those details her skin's completely procedural.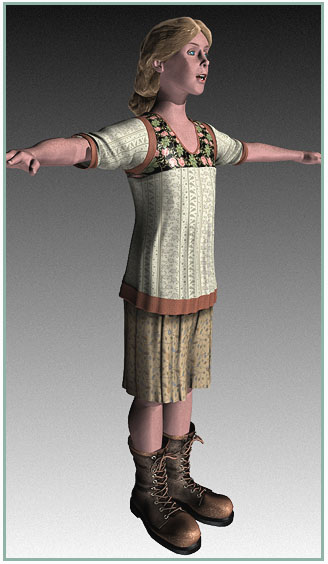 Now, I regret to say, I have to skin her to a skeleton. That's the part of character work that I always dread. But first… the lawn! I dread yardwork slightly less than character skinning.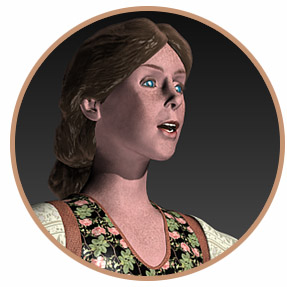 Update:
This comment interested me enough that instead of skinning the character (which I know sounds awful; that's just what it's called) I've been modifying her ridiculously complex hair material to see what kind of brunette Tallie would make. I find that I also sort of like this version, and maybe more than I sort of like the original one.
I also established that the best example of a brunette (brunet?) in Trapped in the Tower of the Brain Thieves is wearing aviator's headgear, so you never actually see his hair.
[tags]thrilling tales of the downright unusual, clockwork book, 3d character, vertex colors, materials, hair, mudbox[/tags]