A Clockwork Eye from the Secret Laboratory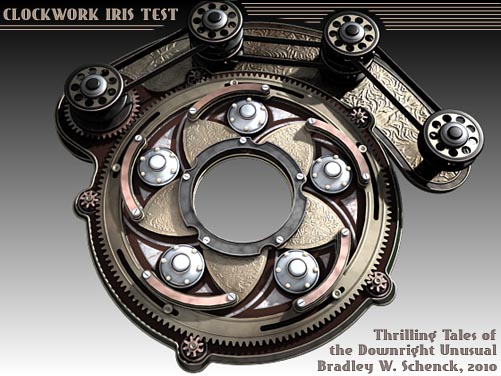 Click the image to see it animate!
I've been working on this mechanism – well, it's a 3D model, so it's not a real mechanism – for the past few days. In ways that are known only to my Kickstarter backers, this is a part of the next stage at my Thrilling Tales of the Downright Unusual web site.
It's unusually steampunkish for me but that makes sense because this object is just the eye of a mechanical character who's much older than anything else in Retropolis. A character who was built in the earliest days of the Mad Science we know and love. I added an eyebrow as a backplate for the band drive – and after much agony I figured out how to set the objects up in 3DS Max so that the whole thing animates when you turn its drive wheel.
The iris mechanism here is based on a real, working design that was featured at Boing Boing a few days back. The original forum thread (with many revisions!) is here. My version is based on one of the earliest of them – I wanted to start with something simple before I got all baroque about it. Which I felt was likely.
Anyway what this means is that I'm working maniacally on some new stuff for the Thrilling Tales site. And now… to that I shall return.