Thrilling Tales of the Downright Unusual: Progress! Progress!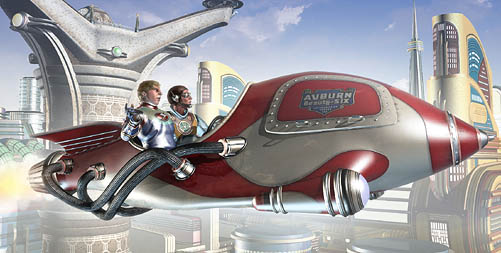 Well! This morning I've hit another little milestone for Thrilling Tales of the Downright Unusual – I finished an illustration that completely wraps up one of the two interactive branches of the story's first half. The other branch is quite far along too, but it – and the remaining illustrations for the latter half of the story – needs one more complex environment, a simpler environment, and some work on two characters. Still, it's really nice to see such big chunks of the tale coming together.
I'm really happy with this latest batch of pictures. That only reinforces the idea, though, that I'll need to go back and rework a few of the ones I did earlier! But although there's no light at the end of the tunnel I at least figure that I've got a lot of dark tunnel behind me now.
Once the illustrations are done I'll need to go back to the web site itself to incorporate a few changes in the way the stories are presented and add a couple of features that were just waiting for real live content. In fact I'm also removing a feature – or modifying it, anyway – which it turns out I haven't had a use for.
It looks as though I'll soon have to set Thrilling Tales aside for a bit to get to work on a freelance job, but I'm not too worried. Part one of The Toaster With TWO BRAINS should still be ready some time in the first quarter of next year. In its web version, anyhow. Print's another story entirely!
Update: the Thrilling Tales of the Downright Unusual web site is now alive (alive, I tell you!) at thrilling-tales.webomator.com