Burroughs/Frazetta Paperback Cover Gallery at Golden Age Comic Book Stories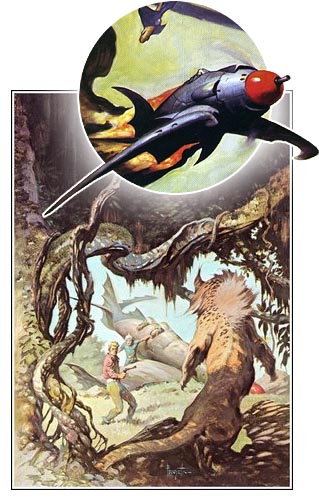 Mister Doortree's Golden Age Comic Book Stories – which doesn't limit itself to comics, but also features collections of work from all sorts of illustrators – has punched my buttons yet again with this gallery of art by Frank Frazetta.
Some of the pieces are collaborations with Roy G. Krenkel, and they come from the old Ace paperbacks of Edgar Rice Burroughs from the sixties and early seventies… which are the editions I read, as it happens, and I'm sure that contributes to the button punching I mentioned.
The big one at right is one of my favorites, and one I wish had been offered as a print (I'm pretty sure it never has). It and a few of the others are from Burroughs' Venus series, which is the series I continue to like best, and whose Frazetta covers I've always also liked in gobs and cartloads.