Thrilling Tales, Continued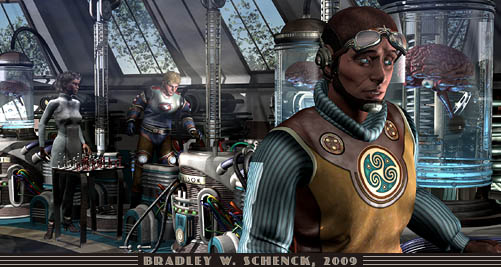 So now that I've got my new Retropolis web site up and running and ticking over quietly, I've finally gotten back to illustrating the first story for my Thrilling Tales of the Downright Unusual project. Here's the third of the new batch. Click it to embiggify.
Here Nat Gonella and Ray Noble are investigating the theft (or, according to some, the kidnapping) of an encanted brain at the Bel Geddes Neurological Institute. The only witnesses would be the other brains, and they say they were all asleep. It's pretty hard to read their body language, so maybe that's true, and maybe it's not.
The interview nodes were the most complicated to set up in this mildly interactive format. I had to diagram them to make sure I'd covered all the conditions. (In fact, I'm thinking about using flow charts when I plot out the next episode).
Several of these story nodes are so similar that they share the same illustration. So this scene is shaping up to need need nine pictures for its fifteen nodes. That's actually a pretty dense ratio of illustrations to text, which is why this is taking so long to complete.
I did a lot of pretty smart work when I set up the authoring system and that really simplified the tasks of creating and editing the story nodes. But as good a job as I did there, the bottleneck is the number of the illustrations. Sometimes I think that – which will make story updates infrequent – is a thing that'll keep Thrilling Tales from getting as wide an audience as, say, a webcomic site. There may be a fundamental problem there, I'm afraid.
Update: the Thrilling Tales of the Downright Unusual web site is now alive (alive, I tell you!) at thrilling-tales.webomator.com