Doc Atomic's 2010 Calendar of Rayguns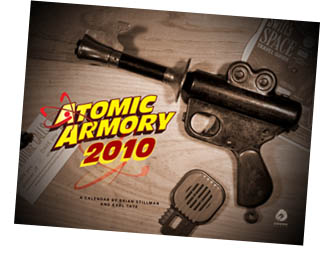 And lest I lose myself in a capitalistic orgy of self-congratulation – which, now that I've typed it, sounds a lot kinkier than I thought it would* – I've got to point you at Doc Atomic's 2010 Ray Gun Calendar: twelve months of disintegrators! Muahahahahaha!
And ha!
* that means that I bet if you Googled it, you'd find something you'd rather not have found.
[tags]ray gun, raygun, calendar,retro, science fiction, sci fi, disintegrator, blaster, things not to take on an airplane[/tags]