The Art of Retropolis – all in one place!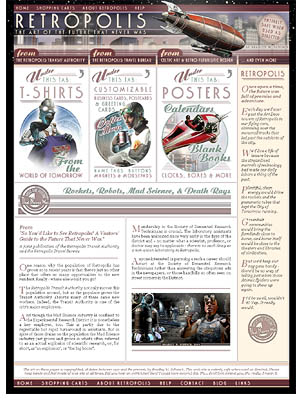 So… when last we saw our hero, who at that time was me, I was working on the second half of my illustrations for Thrilling Tales of the Downright Unusual.
Then, to all appearances, I vanished.
Here's why:
In the annual ramp up to the holiday season – that happy, carefree and yet spiritual time when I turn you upside down and try to shake all the change out of your pockets – I took on a big project that's been on my mind for the last couple of years.
There are a whole bunch of places on the web where I sell my work, as posters and prints, on the ever-popular t-shirts of the Retropolis Transit Authority and – new, this year – on customizable business cards and other nifty swag at the Retropolis Travel Bureau. The trouble is that although I do cross-link between them, where I'm able, there was no central clearing house for all these different things. A visitor to one would usually not realize that the others existed.
So I've just completed that very clearing house: an "Art of Retropolis" site where I combine the products I sell through different vendors so that they're all available in one spot.
In order to do that I had to combine three different scripts to draw in the products, along with quite a few static pages, in such a way that (I hope) it's not confusing to the user, and moreover – when the all powerful Googlebot sees it – the site does not look as though someone's simply scraped existing content from my original online shops. Which is pretty much a death sentence where SEO's concerned. These two issues were such important and interesting problems that I may write up the project later on.
But for now, IT'S ALIVE!!!!!
If it works as well as I hope it will, I'll probably do the same thing with my scattered Celtic art shops. Sometime next year.
And Thrilling Tales? I was already aware that creating the illustrations for its first story was taking longer than I'd expected. So its launch – which I'd hoped would happen right about now, or soon after – will be taking place early next year.