Thrilling Tales, a Random Pulp Title Generator, and Time Goes On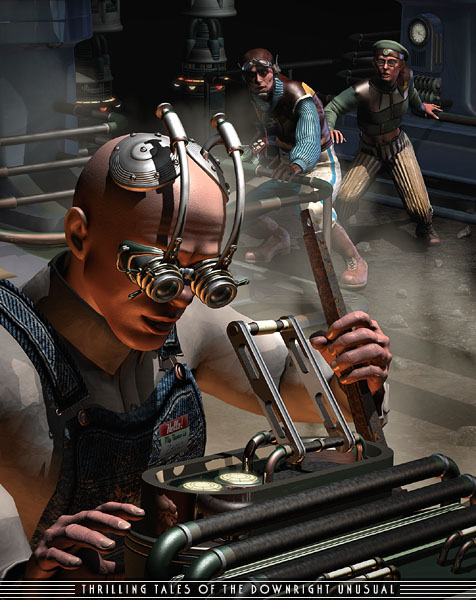 I'm now at forty illustrations for my first Thrilling Tales project – which puts me more or less halfway done. There are still three or four pictures that I'll be revisiting, but heck, I'll take my milestones as I find 'em. No matter how long the setup for a set of pictures takes, I still seem to average 1.25 days per illustration. This is a constant source of wonder for me.
Along the way I've been tinkering with a random pulp sci fi title generator – also for the Thrilling Tales site – which has really gelled now. It was an interesting problem that involved getting the right flavor for the titles while also creating variety in the sentence structure and coming up with a pretty extensive vocabulary. I've been trying to make sure that the titles almost always make grammatical sense without restricting their logical sense. There's a kind of magic that happens with unexpected combinations. The more you restrict the potential nonsense, the more you lose of the unexpected wonders.
Anyway that's a diversion, but in fact it's meant to be a diversion: one of a series of little playthings to flesh out the content for the site. I want to do more of those…. but many of the ideas I have would be best done in Flash, and I don't want to take the time to learn Flash at the moment, since it's the stories that are the main event.
Update: the Thrilling Tales of the Downright Unusual web site is now alive (alive, I tell you!) at thrilling-tales.webomator.com