Everything Old Is New Again – a new, old Retro Rocket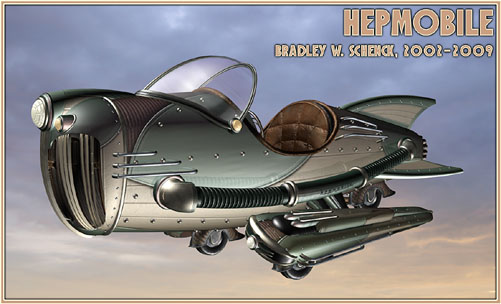 Here's something I don't often do. No, not the rocket. I often do that. Nope, what I've done is to go back to an old rocket model I made back in 2002 (I think!) and I've reworked it in a higher resolution and with higher resolution textures and better materials – so it'll look like it belongs in the same universe as my more recent rockets, characters, and other objects.
It was an interesting process. My recent models and materials are way, way better than what I was doing seven or so years back – and processors are so much faster – and addressing larger amounts of memory is so much easier – that I spend a lot more resources these days on an object like this. So whereas the old model used a bit less than 80,000 polygons, the new one weighs in at over 417,000. There's Moore's law for you.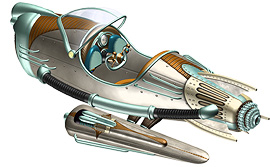 But quite a bit of the difference is in my self, not in my stars. I did see clearly that there was a lot about 3DS Max materials that I didn't know yet when I built the first one.
The Hepmobile, I've found, is a vintage rocket in Retropolis. Although it always seems to be 2039 there, the Hepmobile is older than that: it's pretty much the Volkswagen Beetle or the Morris Minor of the retro future. Everyone's owned one, and they just keep going forever with a little TLC.
They're still produced (in 2039) in limited numbers – mainly because some agencies, like the Retropolis Civilian Conservation Corps, continue to use them for their official vehicles. And how do I know that? Well, for now, I just know.