Aether Patrol embroidered patch from Molly "Porkshanks" Friedrich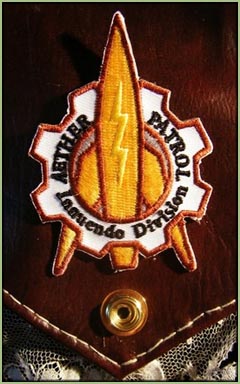 The unsinkable Molly "Porkshanks" Friedrich has added these handsome retro rocket patches to her Etsy store.
You don't need to be a card-carrying member of the Innuendo Division to admire these. In fact, you can still want one if you're just a Suggestive Commando or a Winking Wingman. Person. Whatever.
She doesn't mention how many of these are available but since it is an embroidered patch you can bet that it was a limited run.
So I'd suggest you order yours on the double – some of these Aether Patrolpersons seem to dabble in temporal acquisitions… and so they might beat you to it even if you've got yours already. Which makes my brain hurt.
[tags]steampunk, dieselpunk, rocket, retro, porkshanks, costume, patch, aether patrol, embroidered[/tags]