Celtic Knotwork Borders… Around Your Own Photo or Image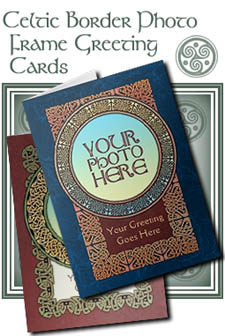 I've continued to tinker with my latest online shops and one result of that tinkering is a new type of product that I think is pretty cool, over at Ars Celtica.
These Celtic art "photo frame" greeting cards are customizable – you can upload your own photo or graphic and that image comes in "behind" the Celtic knotwork borders. You can also personalize one or more messages on (and in) the cards.
That alone seems pretty neat to me: but like anything that can be customized the magic doesn't really start until people start to modify them. So for example these can be used as announcements or invitations, as holiday cards or – and this is pretty much the point, isn't it? – as things that haven't even occurred to me.
[tags]ars celtica, celtic art, celtic design, custom, customizable, greeting cards, invitations, announcements, celtic borders, knotwork, border, photo, photograph, photo frame[/tags]