Cover Preview for Warren Ellis' Ignition City, due out this Spring from Avatar Press

Warren Ellis has posted Gianluca Pagliarini's pencil art for the cover to issue #1 of Ignition City, due out next spring.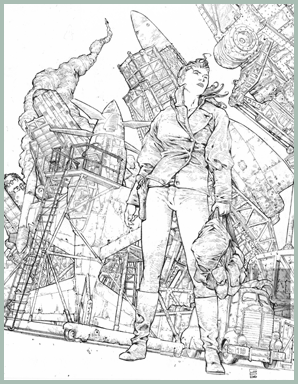 Ignition City's a comics project I've been looking forward to since its original announcement – it's described as a sort of unholy union of Flash Gordon and Deadwood, with disillusioned retrofuturist heroes drowning their sorrows, kicking cans, and swearing up a storm in a retro future that isn't quite as pleasant as we might like. Sounds like loads of fun to me.
There's also an ongoing thread at Ellis' Whitechapel forum with concept art, designs, and yet another cover preview. Let the countdown begin!