Ferriss Moto-Man: the Retro Robot You Didn't Know You Needed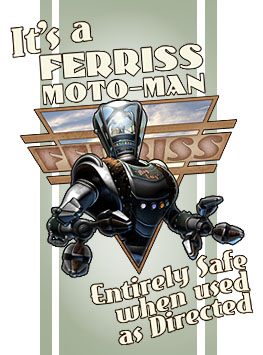 Let me just dust things off here for a moment… yep, that's dust. I'll put it… there.
I know it's been quiet in here lately, and that's not completely my own idea, honest. But in spite of everything I've just finished a new design for t-shirts, blank books, a poster, greeting cards, and whatnot. Whatnot = mugs and stuff.
This is a Retropolitan advertisement for the Mark II version of Ferriss Moto-Man's Big Lug robot. He's a handsome and very durable heavy-duty robot who's perfect for any task you've got, provided that task doesn't need more brainpower than you'd find in your average Pomeranian. He's big and he's useful, but he's not the brightest bulb on the chain, if you know what I mean. But cheer up – he's Entirely Safe When Used As Directed. Like me, that is, and probably like you too.