Thrilling Tales: Bonnie Scarlet & the Sky Pirates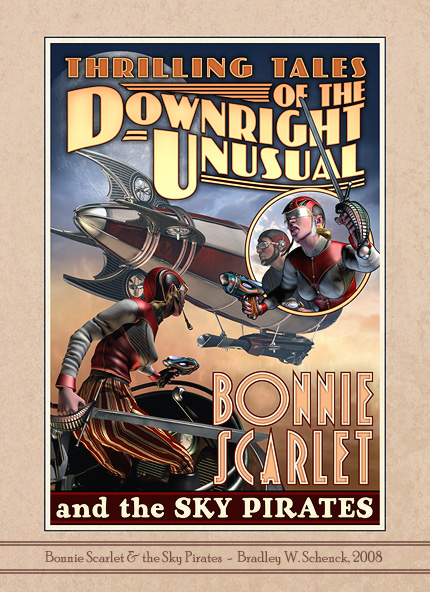 Wronged by men & betrayed by fate, Bonnie Scarlet sails the airship REVENGE across the known worlds in an unending quest for plunder, justice, and just plain peevishness. Why? Because, that's why. What do you mean by that?
Ladies: it's a dream come true.
Gentlemen: Okay. It's like this. That time last week when you found yourself standing behind a tree with guacamole all over your head, muttering "What just HAPPENED?" is pretty much all systems nominal for Bonnie Scarlet.
You'll have learned by now that there's not actually anything you can do to avoid the rampaging hordes of either sky pirates or your girlfriend. So like the various law enforcement agencies of Retropolis you've come to rely on ducking – and it's important to avoid ducking straight down – or running, when necessary, and at all other times you've just got to be prepared to stand and deliver.
But hey, it could be worse – and that's an actual quote from the Space Patrol – because whatever else you can say about her* she does what she does with uncommon style. 'Cause really, it's not just anybody who has their own airship, right?
*When she's on the other side of the Moon, I mean.
Available – without guacamole – on shirts, posters, greeting cards, and non-shatterproof coffee mugs.