Whimsical Retro Robot by Brazilian Artist Fabio M Ragonha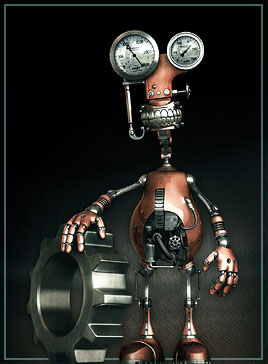 Here's a playful retrofuturistic robot from the portfolio of Brazilian artist Fabio M Ragonha. It's a 3DS Max/Photoshop creation. Whatever job this little guy's meant for, he looks like he's ready to put his nose – if he had one – to the grindstone. Or his shoulder to the wheel. Or something like that. I have trouble keeping my proverbs in order.
Ragonha's portfolio site is on the petite side, but it's full of some wonderful images. Go see!