Version 2 of World Machine Now Available for Procedural Landscape Creation


It was almost exactly a year ago that I discovered Stephen Schmitt's World Machine, a procedural generator for 3D terrain. It's a wonderful product. He'd already been at work for quite some time on the 2.0 version of this powerful piece of software and today I find that he's just released it at last.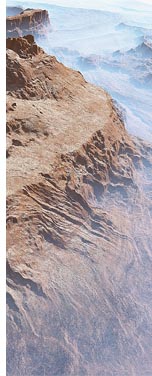 My own upgrade copy isn't here yet – here are some gallery images from the World Machine site. Some of the new features I've been following on his blog include realistic beachfront erosion and a method for generating occlusion maps for the terrain – that, and some other new things he's been working on, should be a big help in masking out different types of materials to appear selectively on the landscape. In fact the new version will even render out a color map, based on the terrain shape, though I'm thinking that better methods for creating masks is more in my line.
Anyway, as I say I haven't been able to play with the new version yet, but based on the old one I think it's going to be a terrific tool. Go look!