Thrilling Tales: The Toaster With TWO BRAINS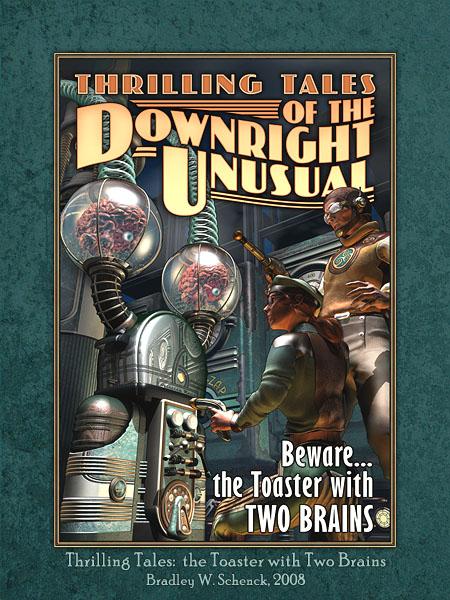 Here's a retro science fiction pulp magazine cover for a magazine that doesn't exist, but probably ought to: THRILLING TALES OF THE DOWNRIGHT UNUSUAL.
In this imaginary issue we have that nail-biting page turner "The Toaster with TWO BRAINS", in which our heroes delve deep into the hostile lair of Doctor Rognvald, beneath the volcanoes of Iceland – only to discover that this evil genius has created the ultimate malevolent kitchen appliance: the Toaster with TWO BRAINS! Is it unstoppable? Immovable? Relentless? Horrifying? Unkillable? You bet it is.
Because a toaster with one brain isn't terrifying. But two? Talk about the heebie-jeebies!
If I were able to explain this…. I wouldn't. You can wonder all you like about infant toaster traumas. I'm not talking. Except to observe, as is my habit, that I cooked this thing up to serve fresh to you, dear reader, as an archival print, a poster, stylish t-shirt, greeting card, and coffee mug – just the thing for that apocalyptic breakfast that the toaster has in mind for us all.