Time Travel Mart Opens in Los Angeles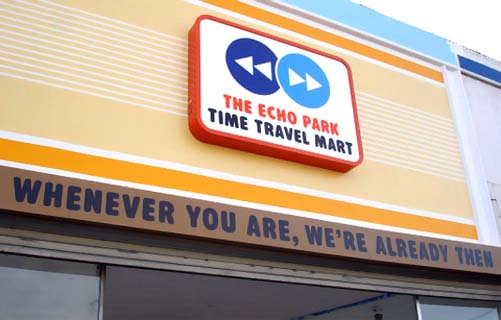 Not long ago – right after my region's worst ice storm in 18 years, followed by a blizzard that dumped 20″ of snow on our heads, a friend of mine asked if I wasn't missing Southern California. And I wasn't. But today, I wish I were back there – and it's all because of Echo Park's Time Travel Mart.
Yep. Whenever you're going, the goods you need are right here in this handy convenience store for time travellers: Robot Milk, "Golden Horde" powdered mare's milk, Barbarian Repellent, Anti-Robot Fluid… the list goes on and on. And bargains! I mean, even at Amazon you won't find a better deal on anything that's guaranteed to Satisfy Cavemen's Chewing Needs!
So yes, Jean, today I do wish I was back in the old neighborhood.