Ars Technica's History of the Amiga, Part 6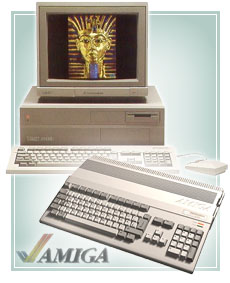 Part 6 of Ars Technica's excellent History of the Amiga Computer is now online. It takes us through the tumultuous and important years of 1986 and 1987 and – as always – tells the story of some very smart moves which – as always – are completely negated by bizarre corporate decisions. On the block this time are large parts of Commodore's own engineering staff, who began to design the new Amiga models, along with Commodore's new CEO Thomas Rattigan.
In order to follow up the soft launched Amiga 1000 Rattigan decided to split the Amiga line into a high and low end model. He felt that the Amiga 1000 fell at a price point the market didn't understand (too high for a consumer computer, too low for a business computer) and the Amiga 500 and 2000 were meant to fix that by giving each market a machine to love.
Apart from their form factor and expandability they were essentially the same machine, which meant – to me, and to artists like me – that the Amiga 500 made a perfect entry level system, especially when its RAM was expanded to one, count it, one megabyte. That was considered a crazy amount of RAM in those days. We also meet Trip Hawkins, founder of Electronic Arts, and Dan Silva, author of the seminal paint program Deluxe Paint.
I've been enjoying these articles all along but it's getting more exciting to me here because this is about where I arrived. Good reading.
If you missed them, here are the earlier chapters:
Ars Technica's History of the Amiga, Part 3