New Retro Robot Character and – and last! – 64 bits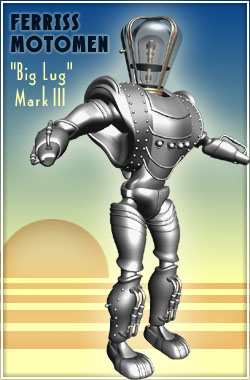 I don't have a rational reason for modelling a new robot, but I'm doing it anyway. So sue me.
I guess I do have a sort of an excuse, since I want to do some work on the new computer even though I'm not highly motivated to do any of the things I really ought to be working on. So that leaves me with my new Ferriss Motomen "Big Lug" Mark III.
I was having some fun with him until I dropped that head on him, at which point I really started having some fun. Hands, head gizmos and textures to follow.
I think it took me longer to put together this computer than it ever has before: a few case fit-up issues, unfamiliar connectors, and problems with installing some software and devices in a 64 bit OS. Or maybe I'm just getting old and slow. Anyway I'm awfully happy that I can now feed twice the amount of RAM even to 32 bit applications – the first bit of anything worklike I did was to successfully render the preview of a scene I'd been working on, which had bombed out due to insufficient memory before. The memory was there, but no one program could use it all in a 32 bit OS.
And I'm still thinking about that new desk. It could happen.