Penguin Rocketeer by Fabio Bautista – "The Great Flight"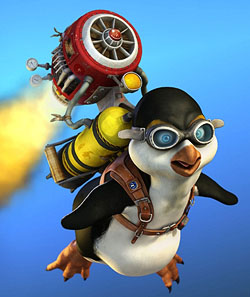 Here's what makes me happy this morning – a jet packed penguin rocketeer by Fabio Bautista, modeled and rendered in 3DS Max. You just can't keep a flightless bird down, even if he has to solve the immemorial "opposable thumbs" problem that's stumped penguin engineers for centuries.
Bautista doesn't have a web site of his own, but you can see his gallery – and a "Making Of" clip for this image and the brief "The Great Flight" animation – in his pages at CG Society, here.