Roland Tamayo's Surreal Paintings: Whales, Squids, & Watchful Televisions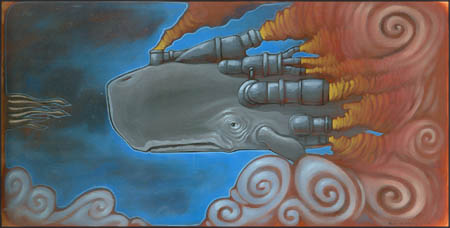 By day, he creates concept art for computer games; by night, he dons his surrealistic cape and ventures out to paint weirdness and wonder. Roland Tamayo's surreal acrylic paintings and drawings dip into the inkwell of his recurring motifs and recombine them in new and unexpected arrangements. That's traditional – Magritte, de Chirico and Dali all used their own icons in much the same way.
Here we've got whales, tortoises and squids coexisting with televisions, buildings, microphones and trees. It's wonderful stuff to look at, by which I mean: you ought to.